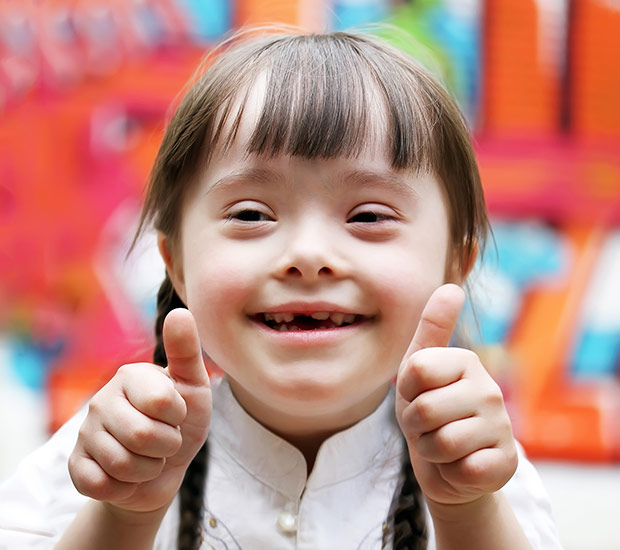 Kids Special Needs Dentist
Suffolk, VA
An important aspect of pediatric and specialty dentistry involves preventative, therapeutic dental treatments for special needs children. Children with a developmental disability, a behavioral issue, emotional condition, or a physical limitation often need extra time and support when seeing a dentist. With extensive experience and clinical training, special needs dentists provide more effective solutions when targeting oral health problems.
Children with mild anxiety disorders, down syndrome, cerebral palsy, and a variety of other conditions may have a heightened fear of visiting the dentist. A special needs dental specialist makes appropriate accommodations for each child's unique case to make their experience more comfortable. Their goal is to provide the highest quality treatment while accounting for the specific needs, high-pain areas, and tolerance of the child. If you are looking for a special needs dentist, call us today at (757) 767-2767to learn more or schedule an appointment.
Special Needs Dentistry: The Difference
A pediatric special needs dentist works primarily with children and has extensive training, education, and experience related to special needs dental care. Special needs dental offices also accommodate children by providing wheelchair and dental chair accessibility, various forms of sedation, and proven strategies that work for each unique disability. A specialty dentist can also provide support to parents and ensure they have the proper guidance on oral care at home.
The distinguishing factor that sets special needs dentists apart from general dentists lies in their compassion and understanding. Most dentists can accommodate and treat special needs patients. However, a specialist focuses more on meeting the needs and working with the limitations of their patients. With combined expertise and training, the methods and strategies used work to create a safe, comfortable environment for the child while attaining the best possible results.
Special Health Care Needs
Children with special health care needs require health and related services of a type or amount beyond that of children generally. Conditions attributed to special needs include, but are not limited to, cerebral palsy, cystic fibrosis, spina bifida, epilepsy, autism, down syndrome, and anxiety disorders. According to the National Survey of Children with Special Health Care Needs, "13 to15 percent of all children have special health care needs, and 20 percent of all families have a child with special health care needs." Special needs dentists can assist and treat children without a condition or disorder but fall in this bracket and need more specific care.
Oral Health Link to General Health
Maintaining proper oral health has a significant impact on general health and well-being as the mouth is a major entryway for bacteria, viruses, and infections. Many children with special health needs struggle with severe dental decay or periodontal disease caused by their medical condition or developmental disabilities. Children with cognitive deficiencies, physical limitations, or behavior problems that compromise self-care often require additional management for dental care.
Genetic disabilities both affect and are affected by oral health issues. The Association of State and Territorial Dental Directors states, "some individuals have abnormal genetic conditions such as cleft lip/cleft palate, Ectodermal Dysplasia (causes missing teeth), and Sjögren's Syndrome (causes impaired function of the salivary glands resulting in a dry mouth)." These conditions prohibit children from performing basic life skills, such as brushing teeth, and can hinder their oral and general health even further.
How a Special Needs Dentist Can Help
Most general and pediatric dentists do not offer services or treat special needs children. The American Academy of Pediatric Dentistry finds that according to the National Maternal and Child Oral Health Resource Center, "dental care is the leading unmet health care need among children with special needs." This leads to many unnecessary dental issues and conditions that are preventable through professional dental care and a special home care routine.
Having a special needs dentist and home base dental office grants the child the comfort they need and builds a relationship between patient and dentist, an important aspect of consistent oral care. The dentist will also learn and understand the child and their needs, accommodations, and tolerance levels. Lastly, parents are involved in the treatment process and guided through preventative measures and proper oral care at home designed specifically for their child.
Tips for Oral Care at Home
Children with special needs should adhere to the same oral hygiene guidelines as all other patients with a few additional suggestions. Children with autism, or similar conditions that affect the nervous system, experience difficulty brushing teeth, maintaining a healthy diet, and finding proper dental care. The Special Care Dentistry Associationprovides helpful tips:
Make brushing twice a day part of your everyday routine
Try different positions such as resting your child's head in your lap or laying them on the bed and kneeling behind them
Try a three-sided or electric brush for special needs
Take your child to the dentist by age one, and for regular check-ups
Get a movie or book on visiting the dentist to help prepare your child
Practice looking in your child's mouth with a disposable mouth mirror
Do not share anything that has been in your mouth with your child
Never put baby to bed with a bottle or a sippy cup
Sticking with an oral health routine helps children with special needs understand its importance and creates structure in their day. Early childhood prevention in regards to oral health will have a significant impact on their oral and general health through adulthood. Healthy, hygienic habits built at a young age can help you manage your child's oral health through the years and prevent other health issues.
Reach Out to Us For More Information
Be proactive in addressing your child's needs. We at Fun Park Pediatric Dentistry look forward to meeting and treating your little one. Call us now at (757) 767-2767to learn more and schedule an appointment.
Frequently Asked Questions About Special Needs Dentistry
Why are dental problems higher in children with special needs?
Children with special needs tend to be treated for more intensive treatments that need immediate attention. Various conditions affect their ability to understand preventative measures in their dental care routines, resulting in issues related to the teeth, gums, and mouth. Some conditions also disable the production of saliva, which is necessary to clear food and protect the teeth.
How can a child maintain proper hygiene if they are having difficulty brushing?
Children who have difficulty brushing, flossing, or rinsing can use a smear of high fluoride concentration toothpaste combined with tap water. Dip the head of the toothbrush into the mixture and bend the brush for a better angle and access to the mouth. The most crucial tip is maintaining an oral care routine and sticking with it.
When should I start taking my child to the dentist?
All children should start seeing a dentist as soon as the first tooth erupts, or no later than their first birthday. Early preventative oral care has found a significant decrease in future caries and cavities. Special needs children who visit a dentist early and consistently may tackle many of the issues associated with disabilities and, at the same time, develop a hygienic oral care routine with their dentist.
What types of preventative care can help special needs children?
Regular brushing, flossing, rinsing, dental visits, and a stable oral care routine can prevent many oral health conditions, especially in special needs children. Professional teeth cleanings get rid of plaque build-up that can contribute to gingivitis and may be needed every three months for children with special needs. Dental sealants, plastic coatings placed on the chewing surfaces of the teeth, act as a protection for the enamel and can prevent tooth decay.
What if my child has an episode during their visit or treatment?
As a special needs pediatric office, we understand that many of our young patients are shy, uncomfortable, or anxious when visiting the dentist. Special needs children require an emotionally safe and comfortable dental environment. In some cases, relaxants or sedation to help them relax and continue treatment.
Are all pediatric dentists trained to care for special needs children?
All pediatric dentists have some training in regards to special needs care. Beyond dental school, pediatric dentists fulfill another 2-3 years of specialized training of which special needs and child anxiety issues are addressed. However, not all pediatric dentists and practices offer special needs care or have experience dealing with special needs children.
Recent Posts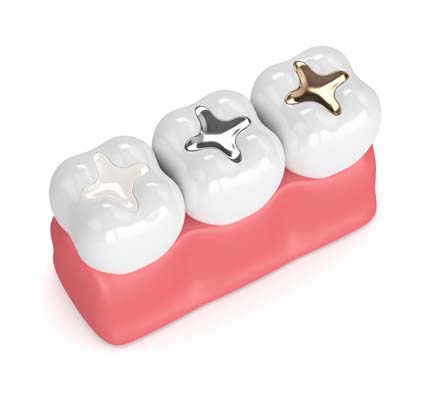 Dental sealants for kids are an important part of a child's oral health care routine. They can help protect teeth from cavities and decay, but many parents are unaware of the benefits associated with sealants. This blog post will discuss the benefits of dental sealants for kids and why they should be part of your…