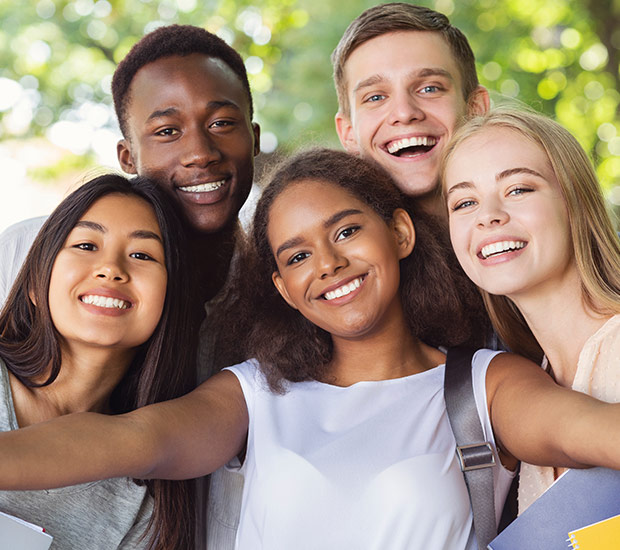 Invisalign for Teens
Suffolk, VA
Invisalign® treatment has completely obliterated the term "brace face" in teen culture. Their invisibility and clear look enhances their smiles while offering flexibility and comfort in their multidimensional lives. Invisalign has transformed the orthodontic industry over the past 20 years by providing teens and adults an alternative to the metal look using cutting-edge technology.
Teenagers are often hard to please, but offering an easier and quicker route to a straighter smile that is virtually invisible usually leads to satisfaction. Each patient can enjoy the convenience of removable trays and home self-care while still following up with a certified dentist every step of the way.
At Fun Park Pediatric Dentistry in Suffolk, we provide Invisalign consultations and treatments for teens. Our team examines the patient using the Invisalign test to determine the right treatment plan for them. They will be able to see what their future smile will look like through our 3D imaging system. To learn more about our services or schedule an appointment, call (757) 767-2767today.
How Invisalign Works
The Invisalign journey begins with the initial consultation, in which patients take a smile assessment that helps us determine the right treatment plan for them. Using the iTero® Element 3D scanner, we create a 3D image of the patient's teeth and discuss what their plan will entail. The iTero scanner has an outcome simulator which allows the patient to see what their new smile will look like by the end of treatment as well as track progress at every visit.
Once the aligners arrive, we will ensure they fit well, answer any questions, and discuss the patient's responsibilities in maintaining the aligners and staying on track. Patients come in every six to eight weeks to check their progress and pick up their next batch of aligners. If progress has slowed or advanced, or the aligners do not fit properly, adjustments will be made during the visit to keep the patient on track.
The Invisalign Difference
What sets Invisalign apart from other teeth-straightening methods is its technology and aligner material. The 3D iTero scanner eliminates the need for uncomfortable goop or putty impressions while providing the utmost accuracy (takes 6,000 images per second). The 3D scanner also traces the gumline to ensure aligners fit snugly and the bite to allow its repositioning if necessary.
The clear aligners use SmartTrack® material for enhanced comfort, faster treatment, improved control, and predictability. Invisalign's mapping software creates an algorithm that calculates the amount of force for every anticipated tooth movement and ensures teeth move at the right time in the right direction. Lastly, SmartForce® Attachments secure aligners to the teeth while applying the amount of force necessary.
Treatable Cases
Invisalign has transformed over 8 million smiles, and its technology continues to advance to allow for more treatable cases. For example, the mandibular advancement feature improves class II malocclusions, or overbites, in teens using precision wings that gradually move the lower jaw. Through the smile assessment, we are able to determine if Invisalign can treat a patient's case but common treatable cases include:
Overbites, underbites, crossbites, open bite: upper and lower jaws do not line up
Gap bites: extra spaces between teeth
Crowded bites: teeth do not fit normally in the jaw
Baby and permanent teeth: a mixture of primary and permanent teeth
Straighter smile: minor adjustments for straighter teeth
Adherence and Maintenance
Adherence
Since Invisalign aligners are removable and self-regulated, patients need to practice self-discipline and accountability to attain their desired outcome. Aligners are to be worn 22 hours a day, so they are constantly applying the right amount of force, as teeth tend to shift back to their original position. The Journal of the Canadian Dental Association found that"Adherence to a prescribed treatment modality is of utmost importance in ensuring successful therapy. Lack of adherence can reduce the effectiveness of the best treatment plan and the most promising treatment mechanisms." Patients who adhere to our individualized instructions acquire more favorable results in a shorter length of time.
Maintenance
Along with proper oral hygiene care, aligner trays have their own cleaning routine. Teeth should be cleaned and free of residue before reinserting the aligners to avoid staining them. Aligners should be cleaned twice daily using lukewarm water and mouthwash or cleaning crystals. When eating or brushing teeth, aligners should be placed in a case to keep them free of dirt particles and avoid loss or breakage. Invisalign offers various accessories for cleaning and storing aligners.
Post-Treatment Guidelines
After transforming your smile, keep it from relapsing with the Vivera retainer. The invisible retainer is also clear, removable, and custom tailored to each patient. Vivera retainers are made out of the same state-of-the-art technology as the aligners themselves and are built to be twice as durable as standard retainers.
To maintain oral hygiene and keep teeth healthy, patients should adhere to the same cleaning measures post-treatment. A proper hygienic routine consists of brushing teeth twice a day, flossing and rinsing daily, and clearing residue after every meal. Constantly clearing bacteria prevents decay and infection while keeping teeth in their newly set position.
Schedule a Visit Today
Invisalign for teens is available at our office. The Fun Park Pediatric Dentistry team looks forward to treating you or your teen and fast-track that new smile. Call our office at (757) 767-2767to learn more or schedule an appointment.
Frequently Asked Questions About Invisalign for Teens
How much does Invisalign treatment cost?
Treatment costs vary from patient to patient depending on duration, amount of trays, and insurance coverage. Treatments range from $2,500 to $5,000 but may be covered or partly-covered by insurance or paid in monthly payments. Payment methods are discussed during the initial consultation appointment.
How can aligner trays be properly cleaned at home?
There are various ways in which patients can safely clean their aligners at home. Vinegar and baking soda work well as fighting solutions to disinfect and clean out aligners. Antibacterial soap and clear mouthwash also remove bacteria, dust, and residue. There are many aligner cleaning products available that are designed specifically for Invisalign and other clear aligners.
How can I eliminate odor?
Many patients following all protocols regarding their aligners still experience odors, usually near the end of the day. Much of the odor results from the accumulation of saliva and bacteria in the trays. To avoid this, we recommend cleaning them out two or three times daily and leaving them out to air-dry for at least five minutes.
Will eating and drinking with aligners cause damage to them?
Invisalign aligners are removable and easily-manageable. We heavily advise against eating and drinking as aligners can become stained, reshaped, or damaged. If a patient forgets their aligners in, they should immediately remove them and soak them in a cleaning solution for at least 15 minutes to allow disinfection and any visible color to fade.
How do I replace lost or broken aligners?
Be sure to contact us as soon as you notice the aligners are lost or broken; we will order your replacement aligners and get you back on track. Replacement aligners may be included in the package offered at the beginning of treatment, depending on payment method. We will discuss replacements during the consultation so patients are aware prior to treatment.
What will happen if I do not wear my aligners for the prescribed duration?
Since success is reliant on patient cooperation, dentists are unaware of the actual duration of wear, and there is no way of monitoring that. Practicing self-discipline and constantly visualizing your end goal helps remind patients of the importance. One way patients can practice accountability is through open communication with their dentist.
Besides cleaning them, how else can I protect my aligners?
Invisalign creators at Align Technology insist on keeping aligners out of excessive heat and hot water to avoid warping the plastic. Attachments connecting the aligners to specific teeth also help to keep them in place, minimizing the amount of damage that movement can cause. It is crucial, however, to clean them daily in order to maintain their durability and effectiveness.
Recent Posts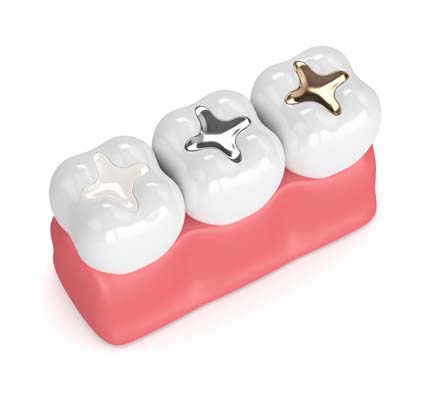 Dental sealants for kids are an important part of a child's oral health care routine. They can help protect teeth from cavities and decay, but many parents are unaware of the benefits associated with sealants. This blog post will discuss the benefits of dental sealants for kids and why they should be part of your…