Tooth-Colored Crowns
Suffolk, VA
Dental crowns are caps or covers for decayed, cracked, or broken teeth, as well as teeth that have undergone root canal therapy. Tooth-colored crowns paved the way to more natural, brighter-looking smiles with enhanced ceramic and porcelain material. Many parents are opting for tooth-colored crowns as aesthetic improvements for decaying teeth to prevent further deterioration, or to save their tooth.
As a pediatric dentist, we understand the complexities of baby teeth and the process of mitigating decay progression in adult teeth. We tailor tooth-colored crowns to each patient depending on age, amount of decay, and parent preferences. Custom-made crowns may also help restore a child's tooth until their permanent teeth come in.
At Fun Park Pediatric Dentistry, we provide tooth-colored white crowns. Our team can assess patients and supply them with information about the various types of crowns. To learn more about our services or schedule an appointment, call (757) 767-2767today.
The Tooth-Color Difference
Permanent crowns can be made of all metal, porcelain-fused-to-metal, all resin, or all ceramic. Traditional metal crowns consisted of gold, palladium, nickel, or chromium and contained a significant amount of mercury. A technician in a dental lab fabricates a traditional dental crown by hand and is typically a mixture of several different metals.
Tooth-colored crowns come as porcelain-fused-to-metal, all-composite resin, all-ceramic, or all-porcelain and are curated to match the color of the surrounding teeth. They are made in a lab using modern dental technology to create precise grooves, ridges, and cusps, as well as the exact lining of the gums and neighboring teeth. The Journal of Interdisciplinary Dentistry found that ceramic crowns offer more comfort, convenience, and accurate results to patients than traditional crowns. Although traditional metal crowns are known to last the longest due to their metallic strength, tooth-colored crowns may last just as long with proper care and maintenance.
Advantages of Tooth-Colored Crowns
The most considerable advantage of tooth-colored crowns is that they look and feel like a natural tooth. Another benefit over traditional crowns is that they are made using 3D imaging technology that accurately forms the crown to your bite and gum line. With advancements in cosmetic and restorative dentistry, tooth-colored crowns have become increasingly stronger and more durable, granting them the longevity of traditional crowns.
Treatment Procedure
Permanent crowns are primarily used to cap a tooth with extensive decay that could not be treated with merely a filling. As a pediatric dental practice, we try to save as much natural tooth structure while removing as much decay as possible. The crown procedure varies from patient to patient but depends largely on whether the patient received a baby root canal prior, the size of the decay, and the length of time before permanent teeth are due.
The standard procedure for a crown follows four steps: applying local anesthetic, decay removal and shaping, crown sizing and cementation. We first apply local anesthetic in the area of treatment (for about 10-15 minutes); then remove the decay present and shape the tooth to make room for the crown; Our Porcelain crowns are prefabricated and come in different sizes, size selection is important to the long term success of the procedure. Once crown size selection is completed, cementation with Glass ionomer cement completes the procedure
Preserving the Crown
Tooth-colored crowns are made to be durable and withstand pressure to provide more convenience and less interruption in our patients' lives. They are able to return to their normal eating habits immediately post-treatment. Children who have crowns on primary teeth have an advantage in that the crown protects their tooth and gums before permanent teeth come in, preserving the area for much longer.
However, crowns are not completely protectant, and gums are still prone to infection, inflammation, and disease without proper care. For a crown to maintain its durability and last the desired length of time, patients must adhere to the same oral hygiene practices as with real teeth. Brushing twice a day, flossing daily, and using a mouth rinse generously will ensure your teeth and crown are in tip-top shape.
Wear or Damage
Excessive biting, grinding, and clenching, can cause abrasion or cracks in the crown. Wear and cracks on or around a crown can allow bacteria to seep through, causing decay over time and eventually leading to another cavity or infection. Maintaining a six month recare appointment enables us to re-evaluate all past restorations completed.
Schedule an Appointment Today
Our team at Fun Park Pediatric Dentistry help our young patients restore their smiles and regain their confidence. Call our office at (757) 767-2767to schedule an appointment or learn more.
Frequently Asked Questions About Tooth-Colored Crowns
Can a crown be placed on primary teeth?
A crown may be used on primary (baby) teeth for a few reasons: to save a tooth that has been so damaged by decay that it can not support a filling, to prevent further decay of teeth and gums before permanent teeth if cavity progression seems imminent, or to protect a child's tooth who is at high risk of tooth decay.
What happens when there is not enough tooth for a crown?
Sufficient tooth structure is needed to support a crown. If there is not enough tooth structure, there is a risk of tooth fracture. We will inform you whether there is sufficient tooth structure and alternatives if there is not.
Can teeth or gums decay under crowns?
As durable as they may be, crowns are man-made and are vulnerable to acidic environment of the mouth. Decay can be detected early by noticing signs of increased sensitivity, pain when touching it, and decaying around the edges of the crown. Early detection of decay can reduce the amount of damage done to the area.
Recent Posts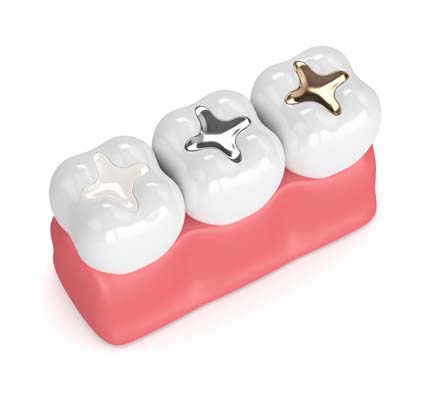 Dental sealants for kids are an important part of a child's oral health care routine. They can help protect teeth from cavities and decay, but many parents are unaware of the benefits associated with sealants. This blog post will discuss the benefits of dental sealants for kids and why they should be part of your…